Ringo Starr stopped by the Los Angeles Grammy Museum on Tuesday where he unveiled a special exhibit titled: "Ringo: Peace and Love."
"It's Ringo The Musical" he joked backstage in an interview with Billboard. "And of course The Beatles are heavily featured."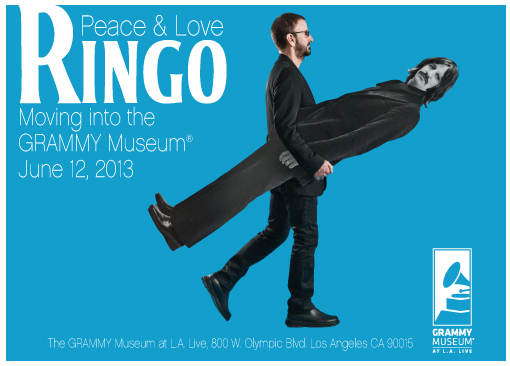 Starr also revealed that he's been working on his latest album and has about seven basic tracks pieced together. "I don't go to studios now," he explained. "I've started a new record and it's all in the guesthouse in L.A. I've made the last two in the guesthouse."
At this phase of his career, Starr enjoys the relaxing process of making music with friends, without the trappings of a commercial recording studio.
"There are so many great musicians [in L.A.] and they come over for a cup of tea or whatever and we write or we play. I put a basic track down and then write to that. That's how I've done the last ones," he said. While there are no announced collaborators yet for the album, Starr says it's likely that Joe Walsh will make an appearance. "He's family and has been on all the records." The remaining collaborations will unfold at random.
In addition to leisurely recording the next release, Starr plans to take his first "holiday" in four years this summer before heading out for a stint of South American tour dates in November. He will also perform two shows in Las Vegas this fall.
Starr tells Billboard that he plans to keep making music and releasing albums — far into the foreseeable future. "I've played with so many great players. I was in an incredible band. We've made great music and that's still around. I just want to keep playing really. That's the dream and it's unfolded up till now so I see no reason why it should stop."
"Ringo: Peace and Love" is currently on display at The Grammy Museum through March 2014. The limited run exhibit features a personal look into the life of Starr through rare artifacts from the Starkey family and Starr's days with The Beatles — film segments, and previously unpublished photographs. Visitors can preview Starr's freshly released e-book "Photograph," as well as hop into a booth to add their vocals to "Yellow Submarine" before sitting behind a kit for a virtual drum lesson with the master.
---
Billboard @ Governors Ball: