In a quick and decisive move, the Academy of Country Music has barred Morgan Wallen from "potential involvement and eligibility" in the upcoming 56th annual ACM Awards — a penalty that is believed to be without precedent in the history of music awards shows.
Wallen, who was seen as a potential global superstar, won't be allowed to appear on the show or compete for any awards in the wake of his use of a racial slur, according to a message posted by the ACM on Wednesday (Feb. 3).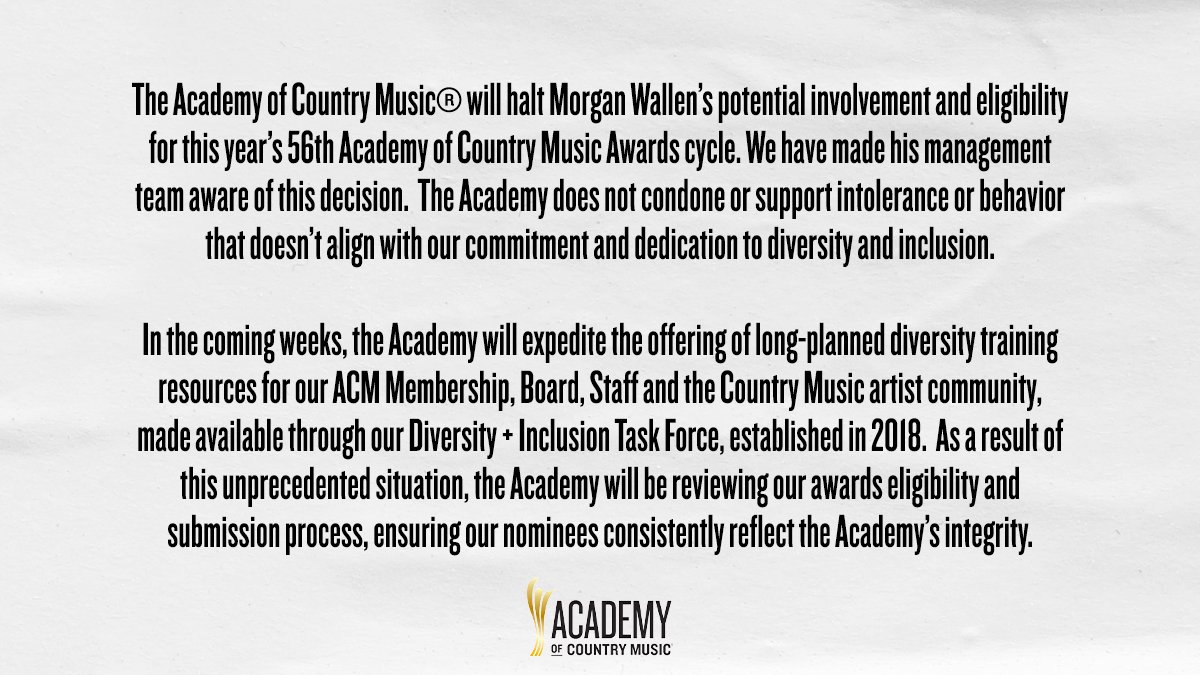 Wallen was nominated for new artist of the year the 55th annual ACM Awards, which were finally presented on Sept. 16, 2020 — more than five months after their initial April 5 date. (The delay, of course, was due to the COVID-19 pandemic.)
First-round voting for the ACM Awards has already concluded (Jan. 19-26). Second-round voting is set for Feb. 10-17. Final-round voting is set for March 17-24. The awards will air April 18 on CBS.
Wallen was likely to receive several major nominations at the upcoming show, including male artist of the year, single of the year and song of the year. His current album, Dangerous: The Double Album, which has ruled the Billboard 200 for the past three weeks, would not have been eligible: It was released on Jan. 8, too late to meet the ACM Awards' Dec. 31 eligibility cut-off. But Wallen would have been eligible with his hit songs "More Than My Hometown" and "7 Summers."
Soon after the ACM announced its ruling, the rival CMA Awards announced that it is removing Wallen's digital content from its platforms. "We support our Country Music partners for taking swift action," the CMA said, adding that it will consider additional measures.
— CMA Country Music (@CountryMusic) February 3, 2021
Wallen's recording contract with Big Loud was suspended following the slur. Also, his music has been pulled from dozens of official streaming playlists.
Several prominent country artists, including Maren Morris, Kelsea Ballerini, Jason Isbell, Mickey Guyton and Cassadee Pope, have condemned Wallen's comments.
The ACM Awards are produced by Dick Clark Productions, a division of MRC, which is a co-owner of Billboard through a joint venture with Penske Media titled P-MRC.