Backbeat: Dry The River at New York's Bowery Ballroon
By Justin Ray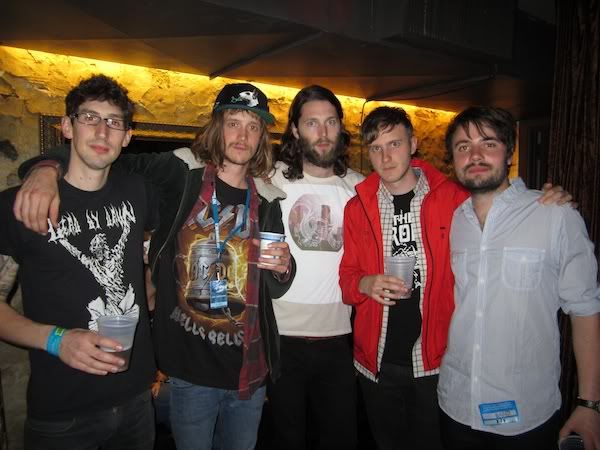 From left to right: drummer Jon Warren, lead vocalist and guitar player Peter Liddle, bassist Scott Miller, guitarist Matt Taylor and violinist Will Harvey (Photo:Jamie Abzug).

From from their buzzed-about appearances at SXSW, British band Dry the River (@DryTheRiver) made their second appearance at the Bowery Ballroom on March 23. After creating a buzz in the UK playing festivals like Glastonbury, Green Man, and Reading and Leeds, the group hopes to win over crowds in the States with their new album "Shallow Bed" which will be officially released in the US on April 17.
The quintet is comprised of guitarist Matt Taylor, violinist Will Harvey, bassist Scott Miller, drummer Jon Warren and lead vocalist/guitarist Peter Liddle. Shaggy haired Liddle stood before the crowd barefoot in acid wash skinny jeans and a loose fitting AC/DC shirt. Despite being the frontman, Liddle didn't say much during the concert; Miller played MC for the night, occasionally wiping his can of Tecate beer across his sweaty forehead. Miller said about Liddle, "He's the resident genius. Every band needs one."
Indeed: Liddle studied anthropology and even began attending medical school before succumbing to music. His academic background makes appearances in lyrics like "Fortune hangs around us like a funerary wreath/ I was down in the heart of the ground" in their song "The Chambers and the Valves."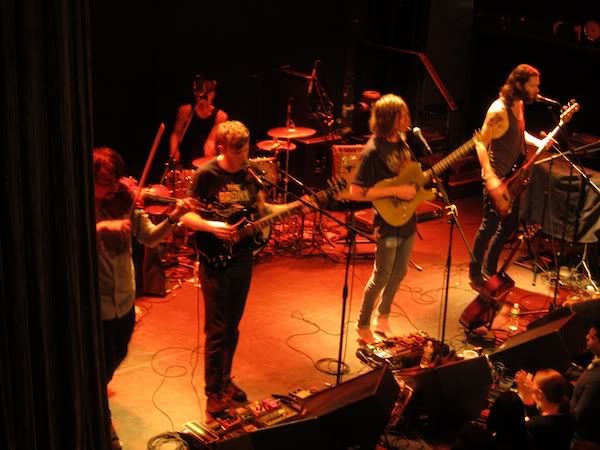 During their set, the band opened with fast-paced rock songs like 'Valves' and transitioned into more indie tunes reminiscent of Fleet Foxes. However eyes were glued to the band during their doo-wop moments when Liddle, Taylor and Harvey sang harmonies. Liddle's fragile voice similar to Anthony Hegarty of Anthony and the Johnsons won over the crowd during these heartfelt numbers like " Weights And Measures," possibly the best performance of the set.
The band will continue their tour opening for the Bowerbirds hitting up venues in cities like Chicago, Minneapolis, Seattle and Portland. The group has also released their new single "New Ceremony" along with the accompanying video directed by Raul B. Fernandez.