The 10 Best GIFs of the 2014 Billboard Music Awards: Justin Timberlake, Miley Cyrus and More
By Brad Wete
Kevin Winter/Getty Images
From the red carpet to the main stage, the 2014 Billboard Music Awards on Sunday (May 18) in Las Vegas was packed with memorable moments. King of Pop Michael Jackson somehow rocked the house. Ariana Grande made a case for why she may be princess of the genre. And Miley Cyrus rocked the house without actually being in the house or performing her own song.
But there were even more random happenings. Nicki Minaj was coy about a new single's title. And, well, see for yourself. Not only does this upcoming list recap the night, but it comes with some movement, too! Check out the best 10 GIFs of the 2014 BBMAs. 
Justin Timberlake Dancing Because He Won (Big!)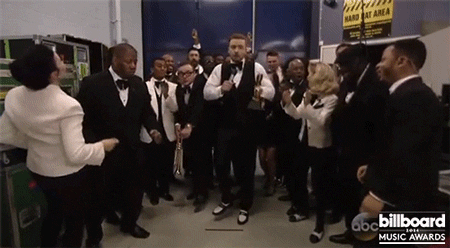 Justin Timberlake
Out of the country on his "20/20" tour, Justin Timberlake wasn't in Vegas to accept his awards. It's unfortunate, because he received seven Billboard Music Award trophies for Top Artist, Top Billboard 200 Artist and Top Billboard 200 Album ("The 20/20 Experience") and more during the three-hour show at the MGM Grand Arena. But along with his tour buddies, he recorded acceptance speeches from overseas. Randomly, he danced during them.
Justin Timberlake, Imagine Dragons Win Big at Billboard Music Awards
Katy Perry Shows Off Her Balloons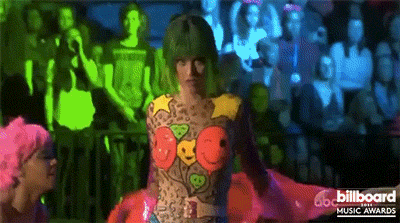 Katy Perry
Katy Perry may not have actually been in Vegas, but she still turned in one of the night's best performances. Running through her latest single "Birthday," she stripped down to a body suit and showed off a bit as well.
Katy Perry Throws 'Birthday' Bash at 2014 Billboard Music Awards
Shakira Gets Blown Away on "Empire"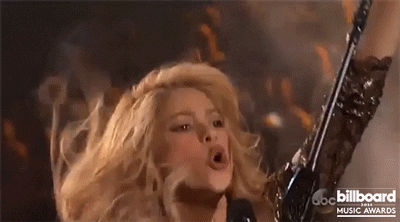 Shakira
Shakira lit up the Billboard Music Awards stage Sunday night with a sizzling rendition of her new hit single "Empire" from her self-titled album.
Nicki Minaj's New Single has a P-licious Title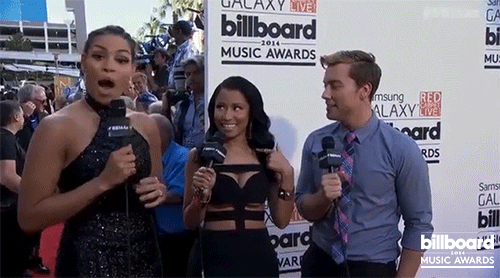 Jordin Sparks, Nicki Minaj & Lance Bass
During her red carpet interview, Nicki Minaj mentioned that her new single comes out Wednesday (May 21). She almost said the title, but nervously held back--only saying that it "starts with a 'P.' Carpet host Jordin Sparks said that the audience should figure it out. Nicki coyly bit her finger.
Nicki Minaj Reveals New Single Title at 2014 Billboard Music Awards
John Legend and Wife Pose for a Selfie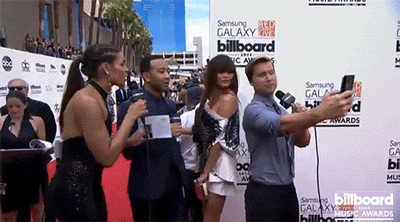 The crew poses for a selfie
John Legend and runway model wife Chrissy Teigen squeezed in for a selfie with red carpet hosts Jordin Sparks and Lance Bass.